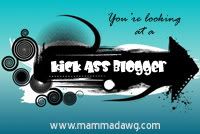 You know how sometimes you need a little boost? Well, this week, my friend Kat from Sassy Irish Lassie gave me that boost by giving me my very first award ... the Kick Ass Blogger Award. I love talking to Kat, she and I have the same love of wine and she is totally supportive of my MS150 training. So now, according to "the rules," I have to pass this award on to five other super bloggers.

Autumn's Mom from Autumn's Mom Saves the World is one of the most down to earth bloggers I've ever had the pleasure to meet. Plus, she's just back from her honeymoon and posted pictures from her wedding and she looks simply gorgeous!

Celtic Buffy from Serving Up Life ... One Latte At A Time has openly discussed her financial issues and her hopes and fears about them. She is honest and I love the fact that she is working so hard at getting her life in order. She deserves a toast.

I can't even begin to tell you how totally kick-ass McMommy from The McMommy Chronicles. Every Friday she hosts Post of the Week and this has single-handedly introduced me to so many other bloggers. Plus she has a way of writing that makes you feel like you are having a direct conversation with her. She almost always makes me laugh.

Speaking of laughing, Kelley from Magneto Bold Too! is one funny, hard-working woman. She is a mom with a wonderful sense of humor and a shoe collection I can only dream of having. If you click on her link, make sure you aren't drinking anything while reading because it will surely come out your nose.

DC Urban Dad simply loves his little girl and it's so refreshing to read a Dad with such an obsession with his brand new family.

So, here you go, my friends, take a couple of minutes and visit these totally awesome bloggers. And keep the award going.